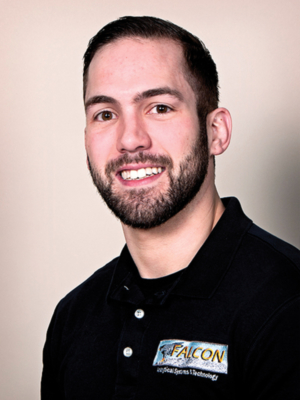 FOR IMMEDIATE RELEASE – ATTENTION INDUSTRY NEWS WRITERS
Headline
Perron Joins Falcon as GC Applications Specialist
Copy
October 15, 2013, Galveston, Texas (Gulf Coast Conference 2013) Falcon Analytical, Lewisburg, West Virginia has announced the appointment of Joseph Perron as GC Applications Specialist.
In his new role, Perron will work with Falcon Analytical's gas chromatography engineering staff to develop applications engineering strategies for customers who apply Falcon's CALIDUS TM line of micro gas chromatographs.
Prior to joining Falcon Analytical, Perron served as a Project Intern for Novozymes Biologicals, Inc., Salem, Virginia, designing, performing and analyzing tests to increase product yield. Perron also served UPM Raflatac, Fletcher, North Carolina, as a Process Engineer, assessing and optimizing processes and product specifications for cost reduction.
Perron graduated from Virginia Polytechnic Institute and State University (Virginia Tech), Blacksburg, Virginia in 2002 with a B.S. in Chemical Engineering and also holds an Associate Degree in General Engineering form J. Sargeant Reynolds Community College, Richmond, Virginia.
Contact Joe Perron at: JPerron@Teledyne.com
Meet the entire Falcon Analytical team at GCC Booth #: 1121/1123
Falcon Analytical is a leading provider of innovative, cost effective solutions for measurement, control and automation. Falcon offers a full line of ultrafast, micro gas chromatograph analyzers, software to enhance and streamline analyzer data reporting, as well as domestic and international service programs. Falcon develops its products and services with primary concern for the needs of the Hydrocarbon Processing, Oil and Gas Exploration and Production, Food and Beverage, and Environmental Industries.
FOR FURTHER INFORMATION, CONTACT:
---